WELCOME TO UCF CONNECT.
Our innovative partnerships highlight the strengths of our connect centers in Central Florida, our one-of-a-kind DirectConnect to UCF initiative, strong business partnerships developed by the Division of Continuing Education, and international experiences through UCF Global.
CONNECTING IS EASY AND GUARANTEED.
We said "It's All About Connections" and we meant it. DirectConnect to UCF guarantees admission* to UCF with an A.A. or articulated A.S. degree from any of our partner state colleges. Not only are there step-by-step support and valuable online resources, but there are other great benefits too:
Shorter time to complete your degree
Personalized advising and coaching
Smooth transition and enrollment assistance
*consistent with university policy
Learn More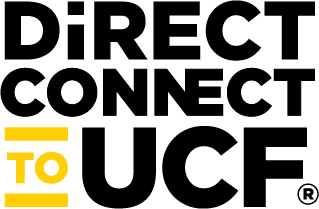 CONTINUING THE CONNECTION.
UCF Division of Continuing Education (CE) offers courses to help you prepare for your next big steps in college or career, grow personally or professionally, or transform your future. Over 400 online or face-to-face courses are available for professional and career certifications, office skills, leadership and management, computer training and much more. Programs can be customized or designed to meet specific needs of businesses or organizations. The CE division also offers event planning, conference services, facility rental, and specialized graduate degree and credit programs.
LOCATION IS EVERYTHING.
UCF Connect offers centers conveniently located throughout Central Florida:
Click on map marker for location information:
Events
The key to creating an inclusive environment for all is the language we use. Is it respectful? Is it thoughtful? Does it help to create a safe space where individuals may share their views and perspectives with honesty and genuineness?…
Welcome Back to Class! This virtual event is for UCF students attending virtualand in-person classes at our UCF Connect Center ValenciaCampuses. We will be discussing the resources that areavailable to YOU this semester, including the Knights of theConnection, and our…
Ready to apply to UCF? Need assistance with completing the UCF Application? Join us for the virtual UCF Application Workshop! Remember, the deadline to apply for Spring 2021 is November 1st. RSVP Online For more information, please contact Ramona Diaz…
View all upcoming UCF Connect Events
Spotlight
Earn your B.S. degree in Elementary Education at one of our four UCF Connect Centers:
Full-time daytime or evening program (at select locations), same UCF faculty, same B.S. with ESOL and Reading endorsements built-in, but enjoy smaller class sizes and a convenient location!
The Elementary Education program offers students the option of two tracks: Elementary Education – Education track (K-6 certification with ESOL and Reading Endorsements) and Elementary Education – Lifelong Learning track Non-certification).