WELCOME TO UCF CONNECT.
Our innovative partnerships through our Connect Centers, DirectConnect to UCF, and Transfer Connect provide excellence in success coaching to support transfer student success and life-changing opportunities that ensure a quality, diverse, inclusive and equitable college education.
Transferring to UCF? We got you.
With Transfer Connect, UCF's new one-stop transfer resource for future and current transfer students, you have access to the information and resources you need to thrive at UCF. As you start, what we like to call your Transfer Journey, connect with us and take advantage of all the Transfer Connect benefits:
Personalized support to your transfer journey
Transition checklists and tips
Access to UCF transition services, activities and events
…and much more
Learn More
CONNECTING IS EASY AND GUARANTEED.
We said "It's All About Connections" and we meant it. DirectConnect to UCF guarantees admission* to UCF with an A.A. or articulated A.S. degree from any of our partner state colleges. Not only are there step-by-step support and valuable online resources, but there are other great benefits too:
Shorter time to complete your degree
Personalized advising and coaching
Smooth transition and enrollment assistance
*consistent with university policy
Learn More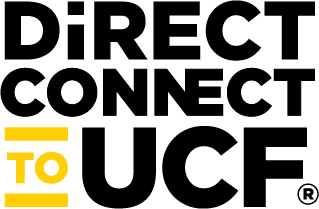 LOCATION IS EVERYTHING.
UCF Connect Centers offer an opportunity to connect with a success coach who will guide you through the admissions, enrollment, and program information services for a successful transition to UCF. You may even be able to complete courses towards your degree at select locations conveniently located throughout Central Florida. For additional information, please visit the location web pages below.
Click on map marker for location information:
Events
Ready to apply to UCF? Need assistance with completing the UCF Application? Join us for the virtual UCF Application Workshop! Remember, the deadline to apply for Spring 2024 is November 1st.
JOIN US for a conversation on how other transfer students have gotten connected and specific ways that you can enhance your student experience! FEATURING a new campus partner each week. ONLINE or IN-PERSONTrevor Colbourn Hall, 215 All events are from 1:00 -…
Are you a Valencia College Osceola Campus student planning to transfer to UCF after you complete your AA degree? Stop by a UCF Information Table to plan your future at UCF! Find out more about DirectConnect to UCF and what…
View all upcoming UCF Connect Events
Spotlight
Earn your B.S. degree in Elementary Education at one of our four UCF Connect Centers:
Full-time daytime or evening program (at select locations), same UCF faculty, same B.S. with ESOL and Reading endorsements built-in, but enjoy smaller class sizes and a convenient location!
The Elementary Education program offers students the option of two tracks: Elementary Education – Education track (K-6 certification with ESOL and Reading Endorsements) and Elementary Education – Lifelong Learning track (Non-certification).
BIG is your potential.
At the University of Central Florida, every day is about unleashing possibilities and your potential.
We understand that going to a new college requires a big transition, so UCF offers an array of services to help you succeed.