WELCOME TO UCF CONNECT.
Our innovative partnerships through our Connect Centers, DirectConnect to UCF, and Transfer Connect provide excellence in success coaching to support transfer student success and life-changing opportunities that ensure a quality, diverse, inclusive and equitable college education.
Transferring to UCF? We got you.
With Transfer Connect, UCF's new one-stop transfer resource for future and current transfer students, you have access to the information and resources you need to thrive at UCF. As you start, what we like to call your Transfer Journey, connect with us and take advantage of all the Transfer Connect benefits:
Personalized support to your transfer journey
Transition checklists and tips
Access to UCF transition services, activities and events
…and much more
Learn More
CONNECTING IS EASY AND GUARANTEED.
We said "It's All About Connections" and we meant it. DirectConnect to UCF guarantees admission* to UCF with an A.A. or articulated A.S. degree from any of our partner state colleges. Not only are there step-by-step support and valuable online resources, but there are other great benefits too:
Shorter time to complete your degree
Personalized advising and coaching
Smooth transition and enrollment assistance
*consistent with university policy
Learn More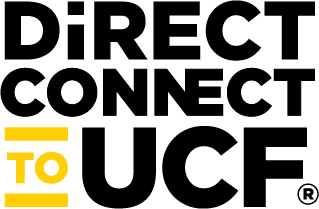 LOCATION IS EVERYTHING.
UCF Connect offers centers conveniently located throughout Central Florida:
Click on map marker for location information:
Events
We're offering in-person information sessions and tours again! Interested in studying visual arts at UCF? Join us for a in-person information session!Our SVAD Advising team will give an overview of the programs offered in UCF's School of Visual Arts and Design…
To register for this Virtual Information Session, please visit http://ucfnursing.eventbrite.com/ or https://www.seminolestate.edu/nursing/info-sessions -- This information session will only cover the SSC/UCF Concurrent ASN to BSN Program. This information session is designed to help nursing-pending students understand the process and steps for…
Congratulations! You've been admitted to UCF! Now the fun begins. Join First Stop learn what you need to next to be fully prepared to start classes.
View all upcoming UCF Connect Events
Spotlight
DirectConnect to UCF® Online Information Session
Join us online for an information session on DirectConnect to UCF and learn what the guaranteed admission is all about. In this interactive information session ask questions and find out what you need to know to make your transition to UCF easy. Reserve your spot now!
WHERE: Online
WHEN: November 17, 2021
TIME: Noon to 1:00 p.m.